Years 4 to 6 (Ages 8 – 11)
How we teach
We start the course by teaching techniques in Verbal and Non Verbal Reasoning. Each concept is taught, explained and even demonstrated. We firmly believe that this is the only gateway to success.
Each week, the child will be tested on the techniques learnt in the previous lesson. Through this, we establish the child's thorough knowledge of the technique and determine if they are ready to learn something new.
Learning & Developing
Children are then introduced to our papers which have questions from the various types put together. This process enables the child to quickly move from topic to topic, seamlessly. Their vocabulary starts to grow during this phase. During this phase, children are trained to balance speed and accuracy. Homework is set on a weekly basis. We provide training material relevant to the examination. Apart from this, we recommend the 'Master Brain Study Kit' which is a compilation of relevant books and question banks.
Refining
From May, children go through a series of exams. This phase is known to rapidly consolidate and boost essential skills, preparing them for the exam front. Mock Examinations take place giving children the opportunity to be tested in a controlled examination environment.
Report & Feedback
Testing is done every quarter. A detailed report gives an overview of strength and areas that need development. The report is colour coded and indicates performance.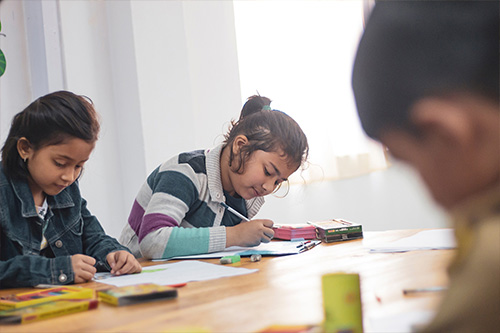 We are here to support & guide you through your studies